Our Hours

2017 will not have regular hours.  Robert is unable to work temporarily.  Hope to  have regular hours this fall and Christmas Season.

JULY and AUGUST  OPEN

Wednes & Fri & Sat  10:00 - 4:00

You can contact Wendy via e-mail to make an appointment to visit the store, or to check on product availability and place an order.

Sorry for any inconvenience.

Maine Made stoneware pottery - all wheel thrown and hand built


222 Bangor Road, Unity, Maine            207-948-2400


Copyright (c) Unity Pond Pottery.  All rights reserved.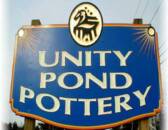 UNITY POND POTTERY

P.O. Box 33

222 Bangor Rd.

Unity, ME  04988

207-948-2400

upp@uninets.net

You may also see our work at the many shows listed on our

Shows page or call us for a store location near you.
Thank you for your interest!

                                                    ... Wendy & Espo

Would your business like to offer our products?