Our Hours

2017 will not have regular hours.  Robert, the potter, is taking some time to hike the Appalacian Trail.  We will have regular hours for the Christmas Season.

June, July, August  Open Wednes & Sat  10 - 4

You can contact Wendy via e-mail to make an appointment to visit the store, or to check on product availability and place an order.

Sorry for any inconvenience.

Maine Made stoneware pottery - all wheel thrown and hand built


222 Bangor Road, Unity, Maine            207-948-2400


Copyright (c) Unity Pond Pottery.  All rights reserved.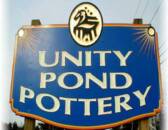 UNITY POND POTTERY

P.O. Box 33

222 Bangor Rd.

Unity, ME  04988

207-948-2400

upp@uninets.net

You may also see our work at the many shows listed on our

Shows page or call us for a store location near you.
Thank you for your interest!

                                                    ... Wendy & Espo

Would your business like to offer our products?